Most fruits and berries contain quite a lot of carbs. That's why they taste sweet. They can be seen as nature's candy.
In general, the sweeter or larger the fruit, the more sugar it contains. On a keto diet, while berries are fine in moderation, it's best to avoid other fruits.
Below is a visual guide. On the left are the best keto choices.
Berries

Each number represents the percentage of net carbs in 100 grams (3.5 ounces) of each berry.
So, for example, 100 grams of blueberries (approximately 3 handfuls) would have 12 grams of net carbs.On a keto diet, small amounts of raspberries, blackberries and strawberries are okay.
Be careful with blueberries, because their carbs can rapidly add up. Eat only small portions infrequently, or not at all.
Fruits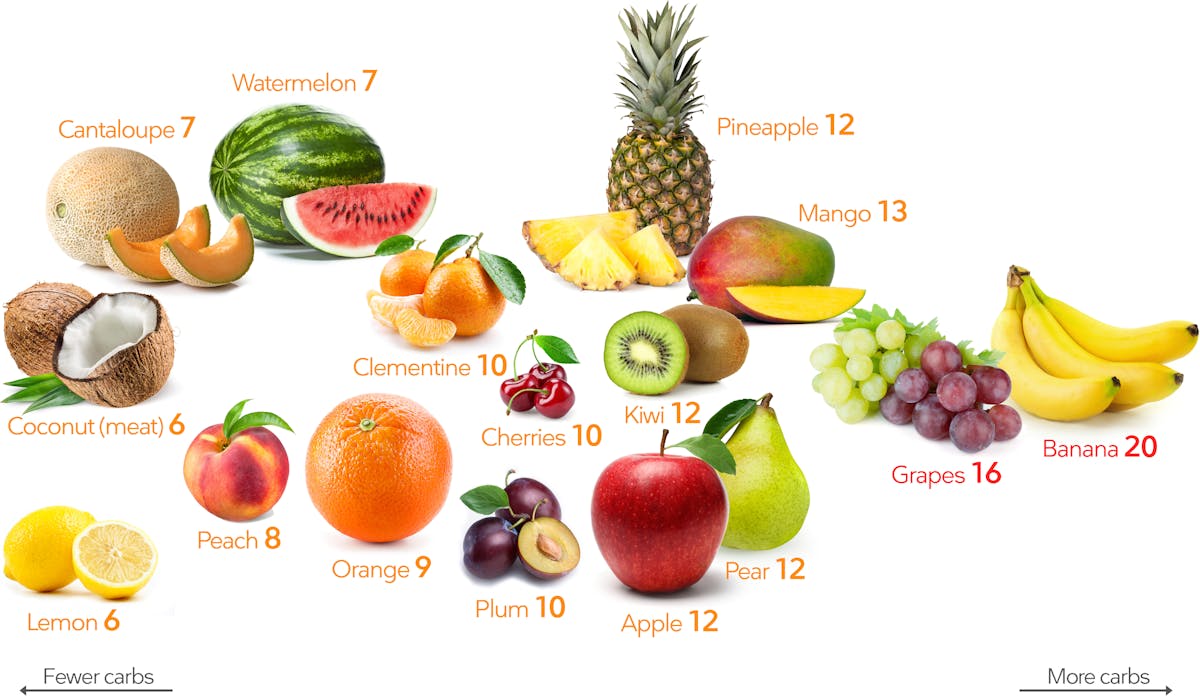 Because other kinds of fruit are fairly high in carbs, they're not a great fit for a keto diet. Again, each number represents the percentage of net carbs in 100 grams (3.5 ounces) of each fruit.For example, one medium-sized orange (weighing approximately 130 grams) has about 12 grams of carbs.
If you eat a large apple (about 25 grams of carbs) or a medium-sized banana (24 grams of carbs), you will have exceeded your daily carb limit on a keto diet.
Fruit = Nature's candy
On a keto diet you can have some berries every so often and it won't likely take you out of ketosis. You might even be able to eat a few cherries or a small plum. Be careful, however. And if in doubt, you may want to measure your ketones to learn how fruit affects you.
Don't we need to eat fruit to get important vitamins and minerals? No, you can get those same nutrients from vegetables.
In fact, some vegetables, like bell peppers and kale, have more vitamin C than any of the citrus fruits — and a lot less carbs and sugar.
What fruits can I eat on a ketogenic diet?

From time to time you may be able indulge in a modest amount of fruit as a treat, while still staying in ketosis. Try topping it with a dollop of unsweetened whipped cream.