It's that time of year when the grills go away and the Crock-Pots come out to play. And if you've recently started the ketogenic diet, you're probably looking for some low carb dinner inspiration. So if you're a set-it-and-forget-it type, you'll love these 25 keto slow cooker recipes.
Yeah, yeah, the Instant Pot pressure cooker took 2019 by storm. But so did the keto diet, and there's a better prep option for that one: the slow cooker (a.k.a. Crock-Pot).
Unlike the sped-up version that lets you cook an entire meal in minutes instead of hours, a slow cooker actually gives food enough time to develop flavors and the meat to become fork-tender—which you absolutely need when you're already so restricted by the types of food you can eat.
But beyond that, a slow cooker allows keto dieters to master meal prep—a crucial component to sticking to keto, since finding restaurant options can be disastrous. With a slow cooker, you simply throw a few things (ahem: cream, cheese, butter, meat, and low-carb veggies) inside the pot before you leave for work in the morning, and by the time you get home—bam, keto meal at the ready.
Because the keto diet (and any diet, really) can make it tough to come up with fresh and exciting recipes on your own, I pulled together the best keto slow cooker/Crock-Pot recipes that'll hit that sweet high-fat, low-carb spot every time. Enjoy!
1
Slow Cooker Crack Chicken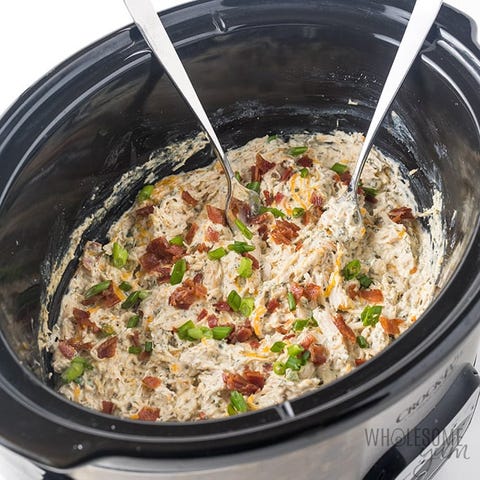 They don't call it "crack" chicken for nothing, folks—it's meaty, it's creamy, it's sprinkled with bacon…and it's addictive AF.
Get the recipe from Wholesome Yum.
Per serving: 346 calories, 23 g fat, 6 g carbs, 1 g sugar, 1 g fiber, 24 g protein.
2
5-Ingredient Slow Cooker Fajitas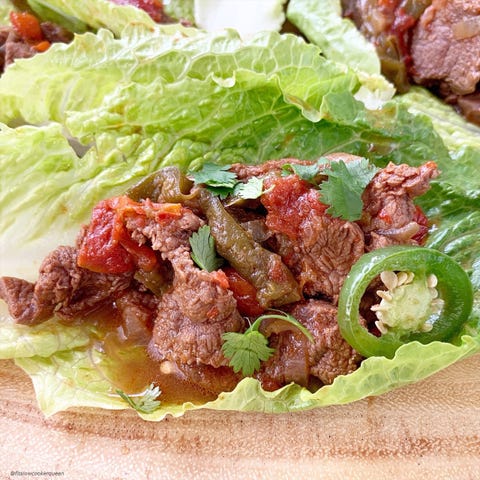 You know what's better than coming home to warm, spicy fajitas after a long day at work? Only needing to throw five ingredients in the crock pot on your way out the door in the morning.
Get the recipe from Fit Slow Cooker Queen.
Per serving: 242 calories, 8.1 g fat, 7.7 g carbs, 2.4 g sugar, 2 g fiber, 33.8 g protein.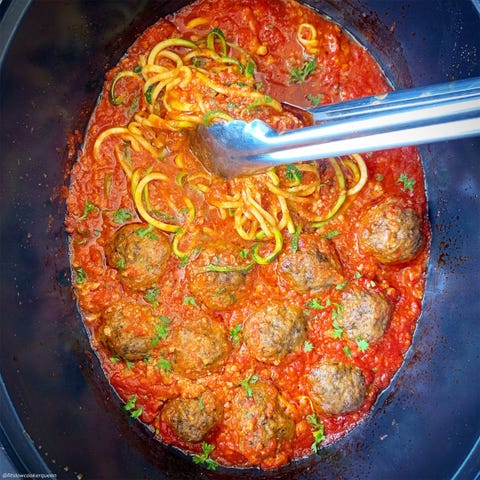 Spaghetti? You won't even miss it when you chow down on this alternative to the Italian favorite, which throws in zucchini noodles for regular ones and does not skimp on the meatball goodness.
Get the recipe from Fit Slow Cooker Queen.
Per serving: 218 calories, 5.8 g fat, 9 g carbs, 5.4 g sugar, 2.7 g fiber, 29.7 g protein.