Sometimes special recipes like this that win over everyone need to come back to the forefront and so that is why I'm sharing it again today. So all of you who may not have ever seen this or tried it and hear how I became a rock star mom and amazed my kids AND you can be one too!
Would you like to be seen as the coolest mom in the neighborhood or at least in your family ?!!
I can tell you very simply how I became just that! I made MAGIC SHELL at home and the kids were in shock at how quickly it worked!
Even though they only eat it occasionally I knew there had to be a way to make it at home without all that sugar!
Discovering the beauty of coconut oil has been the best thing ever and one of the main ingredients that gets this to work perfectly.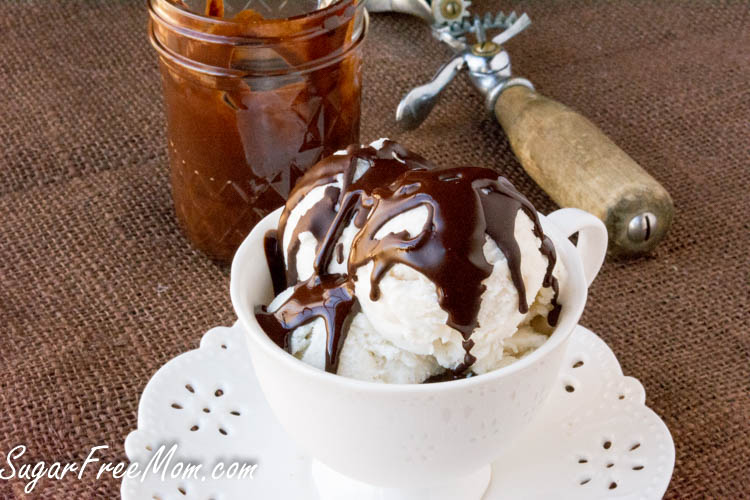 You DO NOT have to keep this refrigerated. But if you decide to place it in the fridge you will need to heat it up before being able to pour it over anything.
The coconut oil hardens in the fridge. Reheat in the microwave for 30 seconds if you feel better storing it in the fridge then once heated pour over ice cream and enjoy!
Pour it right onto your favorite ice cream and instantly hear the amazing oohs and aaahhs coming from your family!
Try this over my vanilla bean ice cream or my peanut butter cheesecake ice cream!
****Please note: The recipe below is using stevia to taste, in the video I am using Swerve sweetener, 3 tablespoons was just right for the kids!
Remember to subscribe to the Sugar Free Mom Newsletter for free and receive fresh recipe notifications delivered into your inbox!
If you try a recipe, please use the hashtag #sugarfreemom on instagram for a chance to be featured! Follow Sugar Free Mom on Facebook | Instagram | Pinterest | Twitter for all of the latest content, recipes and updates.