This keto chocolate chia pudding is a super tasty breakfast or dessert. It's vegan, gluten-free, made with just 5 ingredients, and deliciously chocolatey!
Chia seeds are cheeky little things aren't they? No matter how carefully you avoid getting them everywhere, you will undoubtedly find a few chia seeds lodged behind your toaster after using them. Even if your toaster is in a different room.
But trust me, the mess is so worth it for this chocolate chia pudding!
My healthier twist on chocolate pudding is made keto, vegan, and gluten-free thanks to some chia seeds! And not to mention, it's chocolate flavored, which automatically makes it a winner.
Chia seeds come from the plant salvia hispanica, which is in fact a member of the mint family.
The best thing about chia seeds is that in the presence of liquid they form a gel called mucilage. This is what helps to thicken our blueberry chia seed jam, as well as turn this chia pudding into a deliciously creamy keto dessert!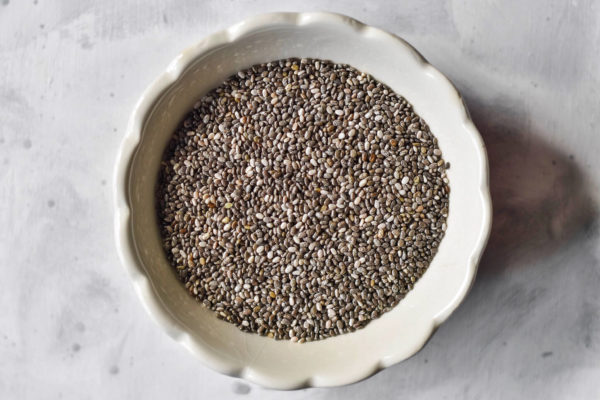 HOW TO MAKE CHOCOLATE CHIA PUDDING…THE EASY WAY!
Chia pudding is something which looks impressive but is ridiculously easy to make. I've found that the quickest and cleanest way to make chia pudding is to make it in a mason jar. Simply add all of the ingredients to your mason jar and shake to combine!
To allow the chia pudding to thicken, we need to chill it in the fridge for at least 30 minutes. It's a hard wait, but it's so worth it – the end result is perfectly creamy and thick!

RECIPE VARIATIONS:
To make this keto chia pudding thick and creamy, I like to use coconut milk as the liquid. For a lighter option, use almond milk.
I like to serve my chocolate chia pudding with coconut yogurt, fresh berries and chocolate shavings. Feel free to use any toppings of your choice – from seasonal fruit to keto brownie pieces!
If you like coffee, you'll love my coffee chia pudding too! Just make the appropriate low carb sweetener sub.
This recipe for Easy Lemon Chia Pudding comes together in about 5 minutes! It makes a tangy, refreshing dessert or breakfast that works for keto, low-carb, Atkins, gluten-free, dairy-free, diabetic and Paleo diets.
Disclaimer: Some of the links on this site are affiliate links which means we make a small commission from any sales to help keep the recipes coming! You do not pay any more. Thank you for your support!
THE RECIPE FOR EASY LEMON CHIA PUDDING
My goal for this recipe was to create a super-fast, easy breakfast that can be made in a flash, but still tastes amazing. I wanted all of you with crazy mornings to have a healthy breakfast waiting for you in the fridge.
With this recipe, you just have to whiz all of the ingredients together in a blender (or shake them in a jar), then pour the pudding into serving dishes.
Pop the puddings in the fridge in the evening and breakfast is waiting for you in the morning. I like to put this pudding in 1/2 pint (one cup) canning jars. That way, I can just grab one and go. Don't forget the spoon!
This may be the fastest and easiest chia pudding I have on the site. It's also one of the tastiest! Lemon chia pudding satisfies that craving for that sweet-tart lemon flavor we love! It's refreshing and perfect for summer.